Shelby County Aviation Association Programs
The Shelby County Aviation Association has chartered a number of programs in support of its organizational objectives. These include the following:
Airport Security
The events of September 11, 2001 brought a heightened need for security awareness at General Aviation Airports. The SCAA has collaborated with various law enforcement agencies in developing a security plan for the facility and actively promotes a security awareness program in conjunction with the Aircraft Owners and Pilots Association (AOPA) Airport Watch Program.
Communication with Government Administrators
An essential part of the SCAA mission is ensuring those who make decisions regarding airport issues at county, state, and federal government level understand the needs of those using the facility. The SCAA also serves as a mechanism for these government agencies to communicate important policy and usage guidelines to airport residents. Over the last year, the SCAA officers have worked on a weekly basis with administrators from Shelby County Government regarding issues of mutual interest. The organization has also sponsored two open forums to inform aircraft owners, pilots, and business owners based at the airport of future plans for the facility and allow them to provide information regardingtheir needs.

Promoting Appropriate Use of Surrounding Land
On average, one public use airport has been lost per week over the last twenty years. Most of these closures being the result from urban / suburban encroachment on the facility. The, SCAA, supporting the Aircraft Owners and Pilots Airport Support Network, works to educate those making decisions regarding development surrounding the airport in an effort to minimize future risk to the facility.
Community Relations
The users of the Shelby County Airport want to be good neighbors and a part of the local community. To that end, the SCAA works to educate those working or living near the airport about the benefits of the facility and also collaborates with airport administrators and others on developing workable policies to minimize impact of the airport to the surrounding area.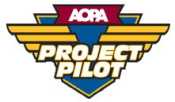 Developing Future Pilots
Whether for the personal challenge, to facilitate business travel, or to begin a career in aviation, learning to fly opens a world of opportunities for an individual. The SCAA proudly supports the Aircraft Owners and Pilots Project Pilot program and has organized a mentoring program for new pilots and those wishing to upgrade their skills. Several events are held yearly to promote the flight instruction programs offered at the Shelby County Airport and encourage those interested to become involved in General Aviation.
Networking Events for Aviation Community Members
Building a strong airport community involves teamwork. A key success factor for the SCAA is the ability to utilize the talents and expertise of a wide-community of volunteers. A number of networking events are held each year that allow for relationship-building among those working to contribute to the SCAA's goals. These include social gatherings at the airport and other local venues as well as flying trips to interesting destinations across the southeast.